There are several scanner products for motor vehicles, however, one of the most outstanding vehicle scanners I came across recently is the new INNOVA 3120 Diagnostic Scan Tool/Code Reader for OBD1 and OBD2 Vehicles.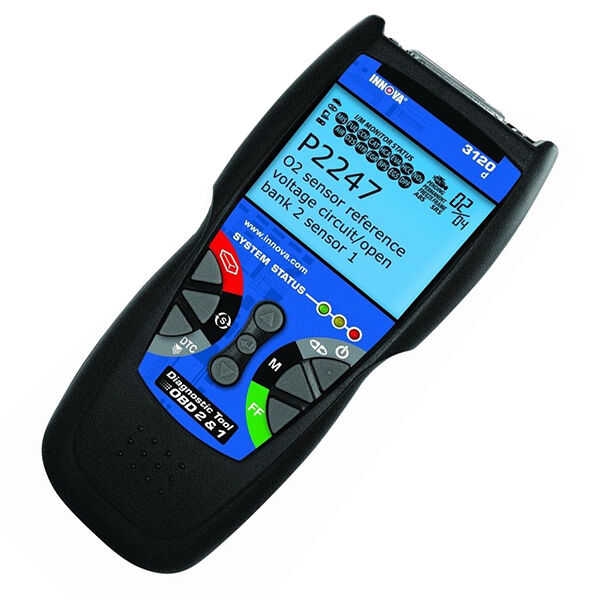 The INNOVA Corporation, which is among the most renowned companies, has been making some of the most outstanding products for the market since 1990. The level of efficiency, accuracy and affordability has been the secret behind its immense success and popularity.
The manufacturer has a range of over 50 products to its name and uses a mix of innovation and skills to produce only the best and most relevant parts for your vehicle. Moreover, the level of support from ASE certified technicians based in the U.S.A is fundamental in creating the level of trust its client's requre.
Why should buy INNOVA 3120 Diagnostic Scan Tool
The INNOVA 3120 Diagnostic Scan Tool/Code Reader for OBD1 and OBD2 has the following good points;
 The scanner maker has patented the model which is fitted with an all in one feature to show diverse features at one go.
The user manual is rather easy to read and understand with clear instructions on how to install and operate.
Author Review
Having had the opportunity to use the scanner, the product is top notch and gives very up to date engine information. I found using the scanner quite interesting especially with the support guarantee it comes with. It is highly recommended for almost all the brands of vehicles on its list.
Innova 3120 Features
The INNOVA 3120 Diagnostic Scan Tool/Code Reader for OBD1 and OBD2 Vehicles is made to function with some of the most unique features. These include:
It has a battery backup memory which enables the technician to access and be able to get data even when the vehicle is switched off.
Its size of 2.5 x 15 x 10.5 inches and a weight of 2 pounds are reasonable for this type of an implement.
Compatibility mode- any model made from the years 1996 onwards, SUVs, Ford/ Lincoln/ Mercury: 1983-1995 models with EEC-IV systems (KOEO, KOER), Toyota/ Lexus made between the years 1991-1995 Chrysler/ Dodge/ Plymouth models made between the years 1984-1995 and any Jeep: 1993-1995.
It has a computerized plug and play system which is capable of downloading the vehicle data very fast and efficiently.
It has an effective screen interface with multilingual features to enable its user's have easy access to the data.
An OBD2 Freeze Frame Data mechanism which is considered to be more modern. This system is made to be able to automatically refresh after every 30 seconds, thereby enabling the repair process.
How to install and use
The first simple step is just plugging the diagnostic tool into your car's DLC port. This is then followed by downloading the PC Link software on your Windows computer. Finaly Connect diagnostic tool to the computer and get to access the required data.
Conclusion
In some cases, it is so stressful when you lack something to use while retrieving the relevant information from your car. However, the use of the INNOVA 3120 Diagnostic Scan Tool has been found to effectively solve this problem.
There are however other equally effective or efficient scanners in the market which could suit your car model. Though using your discretion may be advised, you could be looking for an efficient and cost effective scanner, which is what you have here on offer. You can go for yours today.
Don't forget click on the following to reasearch more about a similar product: Innova 3160